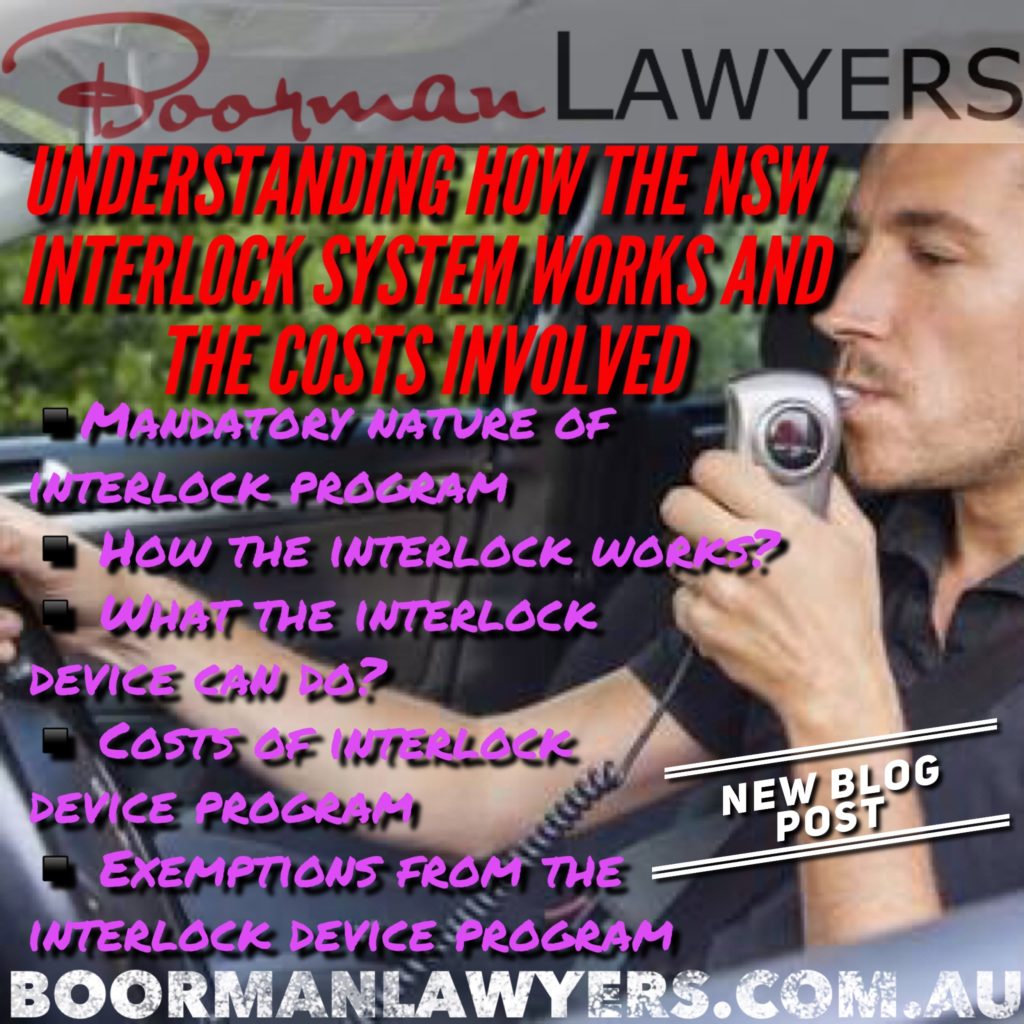 Studies show that drivers with prior convictions of drink driving offences have a higher risk of being involved in fatal road accidents than the average driver. Research also shows that interlock devices lead to less reoffenders while the system is installed in the vehicle.
Mandatory nature of interlock program
Like many jurisdictions in Australia, NSW is committed to improving road safety by helping drink drivers separate drinking and driving through the mandatory alcohol interlock program.
The alcohol interlock system became mandatory only in 2015 with the passage of the Road Transport Amendment Act of 2014. Under this statute, persons who are convicted of high range, repeat, and other serious drink driving offences are now required to install interlocks to the ignition systems of their vehicles.
How the interlock works?
Alcohol interlocks are electronic devices that are connected to the ignitions systems of vehicles such as cars, motorcycles and other heavy vehicles. The interlock has a breath testing device that collects breath samples from a vehicle's driver, which the device analyses and tests for the presence of alcohol. A zero blood alcohol concentration is required for the vehicle to start. Without registering a zero blood alcohol concentration, the interlock will prevent the vehicle's ignition from starting.
It is also understood that alcohol can take some time to enter a person's blood stream. Thus, the interlock program requires random breath sampling periodically throughout the vehicle's journey.
What the interlock device can do
In addition to analysing breath samples, the electronic interlock device also records:
All breath test results;
Photographs of the person providing the breath sample;
Any attempts to tamper the interlock device.
By closely monitoring the interlock participant's driving, the system aims to help the convicted driver separate drinking and driving and reduce alcohol-related road incidents.
Costs of interlock device program
Drivers who are required to undergo the alcohol interlock program bear the costs for fitting the device which can reach about $2,200 a year. The amount covers fees for:
Device installation;
Monthly lease;
Maintenance of the device; and
Removal
The participant will also bear additional expenses for repairing damaged units, unscheduled servicing, and for Roads and Maritime licencing fees for the issuance of an interlock licence.
Exemptions from the interlock device program
Unlike the interlock device program in other states, remote locations and financial hardship are not exempting factors from the coverage of the interlock program. In NSW, Roads and Maritime may provide assistance to offenders who meet the severe financial hardship criteria in order for them to participate in the interlock program.
But in limited situations, a party may be able to apply for an exemption in court if they can prove that:
Lack of access to a vehicle in which to install the device; or
Presence of a health condition that prevents the offender from providing a sufficient breath sample to an interlock device. A registered medical practitioner must issue a certificate on the medical condition of the offender.
The mandatory interlock program is for a minimum period is at least 12 months but depending on your offence and traffic history it can be a minimum period of 2 years, however the Court has a discretion to increase this period to a maximum of 4 years. This period will commence upon the expiration of the licence disqualification that is imposed as a penalty for drink driving.
Considering the burdens accompanying the interlock device program, it's vital for anyone facing a charge of drink driving to engage the services of an experienced traffic and criminal lawyer who can raise effective defenses in your situation.
In NSW, Boorman Lawyers are prepared to help you from the moment you come to us with your situation. We welcome your call today on 1300 941 900 to schedule your free first case consultation with one of our helpful solicitors.
References:
http://www.rms.nsw.gov.au/documents/roads/safety-rules/mandatory-alcohol-interlock-program-legal-guide.pdf
Speak to our DUI Lawyers Ph: 1300 941 900
Our DUI Lawyers can be contacted at:
Boorman Lawyers NSW & QLD Solicitors
Sydney NSW 2000
Bundall QLD 4217
1300 941 900
Next Morning or Day Drink Driving Offences was written by Josh Boorman a Drink Driving Lawyer.