In this episode with the Boorman Lawyers Court reports, we take a look at a Middle Range Drink Driving offence at Southport Magistrates Court where we were able to achieve the minimum possible disqualification outcome for our client.
00:14 – Welcome to #BoormanLawyers Southport Court Update
00:40 – Client had 3 glasses of wine before driving a short distance to local shops
01:25 – On her way home was pulled over for RBT & recorded Blood Alcohol Reading of 0.103
01:50 – Client held a NSWQ licence which precluded her from apply for a Drink Driving Work Licence
03:00 – We collated a great deal of information from our clients instructions & put in place a well prepared strategy 
03:20 – Completed the Traffic Offenders Program showed a willingness to re-educate on driver's safety
04:40 – We submitted there were no aggravating features surrounding the offence
05:20 – We went into some detail about some personal issues surrounding our client & the people she cares for
06:00 – We tendered her NSW Traffic Record which showed she is usually a responsible driver she is
07:00 – Magistrate reduced the disqualification to the minimum period of 3 months + $700 fine & no conviction recorded
08:05 – Contact our Southport DUI Lawyers on 1300 941 900
08:35 – Also visit our website for more information BoormanLawyers.com.au/traffic-law/
Middle Range DUI Offence at Southport Court
Throughout this article, we are going to look at a middle range drink driving offence that we appeared on in the Southport Magistrates Court.
This offence involved quite lady who was around the age of 60 years of age. She actually resided most of her time in Sydney. But she just came up to be with her elderly mother to take care of her. And for a couple of months while she was up here, she took on some contract work in Brisbane. She came home one night quite later in the evening. She had gotten home, had a couple of glasses of wine, straight away, and then about 1 hour later had her third glass of wine.
Her elderly mother asked her to go down to the shops just to get some basic groceries for dinner and for the pantry for the household, she didn't think much over. It was a short distance sent down the road. She hopped in the car and she didn't even turn their mind to the fact that she was probably over the limit due to the three glasses of wine that she had. She went down to the street, got the groceries, when coming back she was pulled over for the purpose of a random breath test (RBT).
She was pulled into the breath testing station and she was found to be over the legal limit. She had blood alcohol rating in the middle range category, 0.103.
In Queensland, the middle range category is between 0.100 right through to 0.150. So, she was just at the lower range of the middle range category. Unfortunately for her, she was on a New South Wales driver's licence and this precluded her completely from being able to apply for a restricted work licence in Queensland. Ultimately, in quote, we were trying to save the maximum amount of leniency available for a middle range drink driving offence sent.
Middle Range DUI Penalties
The disqualification period for a middle range drink driving offence is anywhere between 3 months as a minimum period of disqualification right through to 12 months off the road.
DUI Case Preparation
I had to speak to my client and discuss many issues that were going on in her life in relation to her family, her mother, what she did for work, where she was living temporarily and then most of the time while she was down in Sydney, and to obviously go through a number of issues about how the offence came about.
I was able to get this information and sit down and put together some strategic oral/verbal submissions to present this Court on her behalf. Obviously, she was on a New South Wales driver's licence, so she was resigned to the fact that she was going to lose her licence for a period of time. It was just depending on how long the period that was for.
We recommend our clients go along and do a traffic offenders program. There's a couple of programs that take place in Queensland on the Gold Coast in Brisbane, and there's certainly many programs in New South Wales as well.
So, wherever that you may be located, you should be able to getting contact with a traffic offenders program. It can only assist you when your matter comes to court and they can assist you in becoming a better driver going forward into the future.
We obviously advise that our client go into a traffic offenders program. She did the key QTOP course on the Gold Coast. She successfully completed that, finished and completed the workbook. We're able to tender that workbook in the completion certificate to the Court on sentence.
DUI Submissions to Southport Court
We're also able to explain to the Court that if it wasn't for the fact that she was the jurisdiction barred from applying for a Section 87 Application Work Licence due to the fact she was on a New South Wales licence and not a Queensland licence, then I submitted that she would have been a prime candidate to obtain the work licence. But unfortunately, that's not the case.
We did at going to the detail surrounding how the incident occurred. It was a very short distance that my client had driven down to the local shops. It was quite late at night. There was minimal traffic on the roads and no pedestrians around.
She was the only person driving at the time and she was pulled over the purpose of a random breath test. So there was no indication that she was driving erratically speeding or causing a major or further danger to other people on the road. So there were no aggravating features involved in this particular incident. She was cooperative and polite with police, open and honest about how much she had to drink.
We indicated to the Court that there was a nearly plea of guilty which entitled her to a certain level of discount on the sentence. All these issues were taken into consideration by the Magistrate.
We obviously then discussed a little bit about who our client is. She is a mother with children. She's looking after her elderly mother up on the Gold Coast, see her who hasn't been that well. That's the reason why she was on the Gold Coast at the time when she was caught driving after consuming too much alcohol.
Interstate NSW Traffic Record
We also looked into her New South Wales traffic record. We were able to obtain copies of that, tendered that to the Court, and that really did work in her favour because for a lady who is almost 60 years of age, she's got an extensive driving record with very minimal entries on it. So she's been driving for a long time but it's a very good traffic record. She's never been involved in any major traffic offence before such as drink driving one, is one which meant that I was able to turn around and use that as evidence to support my submissions and say that this offence was very much out of their normal character and how she would usually conduct herself on the road.
Drink Driving Character References
We were able to also obtain some character references right from her husband down in Sydney and also her employer. This went so far as to confirm what a good and usually responsible mother she is and also employee and a valued employee to the company she works for.
Southport Drink Driving Outcome
So we bundled all this evidence together, and I presented to the all submissions to the Court and the Magistrate at the Southport Magistrates Court was very receptive to these persuasive arguments.
He did point out that he understood that she was precluded from obtaining a restricted work licence. However, he did decide to reduce the period of disqualification to the absolute minimum for 3 months for this middle range drink driving offence.
He also issued my client with a $700 fine.
But the other issue that was favourable in our client's case was that he did not record a criminal conviction on this occasion. So she can go forward into the future super mining a conviction-free. She certainly learned a lot from this whole old deal and experience and is very confident that it will be the first and last time she has to face Court.
Certainly, we were able to assist her in preparing the case and presenting it to the Court in the right way to achieve the best possible outcome for her particular situation.
Obviously, every situation is different. It needs to be decided upon on its own merits. There's obviously positive and negative features of each case that need to be handled and presented in a particular way to the Court to obviously achieve the maximum amount of leniency at the Court's discretion.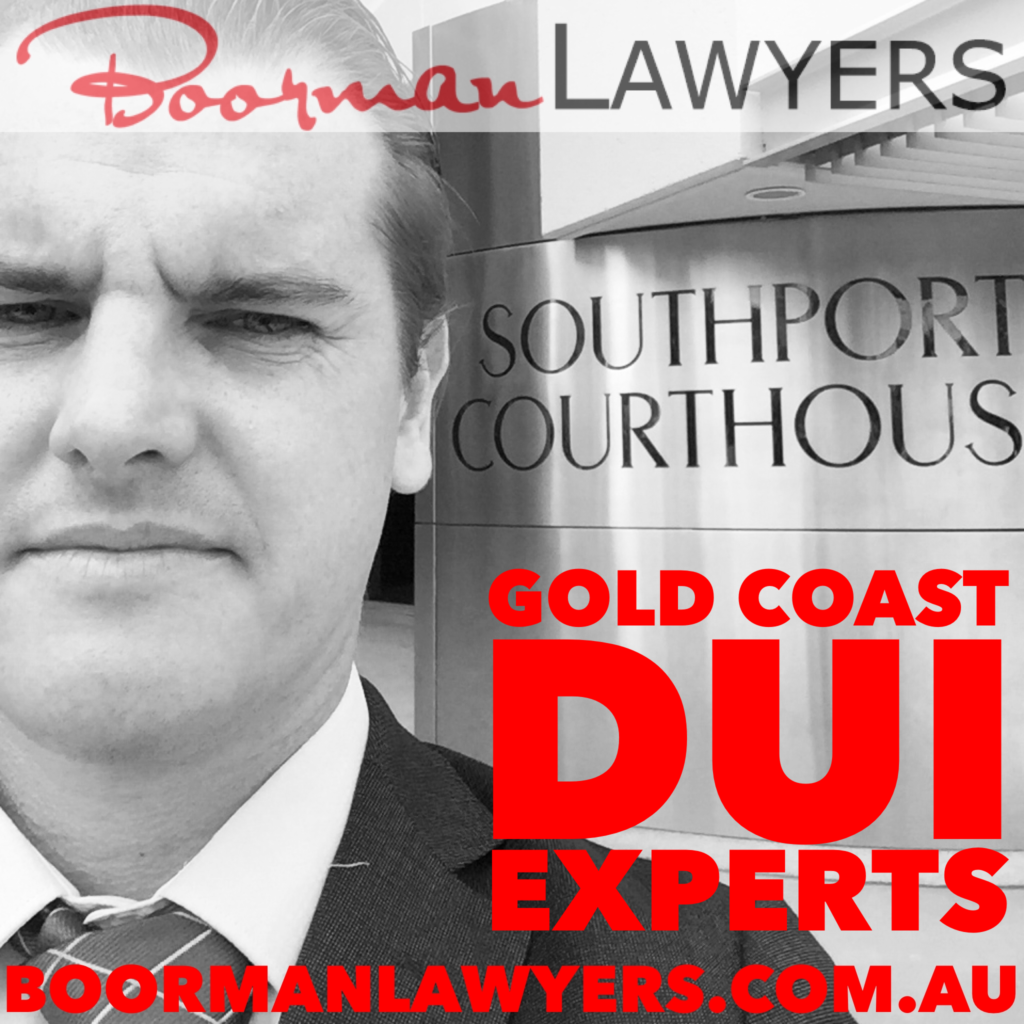 Southport Drink Driving Lawyers Gold Coast
So if you've been charged with a drink driving offence or a drug driving offence or any sort of the criminal or traffic offence on the Gold Coast, we regularly attend to Southport Magistrates Court and also the Coolangatta Magistrates Court and all the Magistrates Courts around Southeast Queensland on a regular basis.
So feel free to give me a call on 1300 941 900 or alternatively go along to the website BoormanLawyers.com.au. There's a great deal of information there surrounding the offences, penalties, blog posts, videos, and all sorts of information that may relate to your particular situation. But by all means, feel free to give me a call and I can discuss how we can best prepare a case for you and best represent you when your matter comes before the Court.
***
Speak to our Gold Coast DUI Lawyers Ph: 1300 941 900
Our DUI Lawyers can be contacted at:
Boorman Lawyers NSW & QLD Solicitors
Sydney NSW 2000
Bundall QLD 4217
1300 941 900