In this video & blog post we take a look at what the SAVE Traffic Offender Program is & how you can benefit from taking part in and successfully completing the Traffic Offender Program.
00:10 – Welcome to #BoormanLawyers Video Update
00:22 – Speaker at the S.A.V.E. Traffic Offender Program
00:45 – Full 1 Day Course with different Traffic Education Modules
01:00 – Program suitable for serious & less serious traffic offenders
01:38 – Traffic Offender Program usually costs approximately $160
02:15 – Participants issued with a Completion Certificate
03:05 – Traffic Offender Program are highly regarded by the Courts
03:25 – I would recommend completing a Traffic Offender Program
03:55 – Go to their website http://SaveTrafficOffenderProgram.com
04:10 – Visit our website BoormanLawyers.com.au OR call 1300 941 900 (FREE 1st Call)
04:45 – Contact DUI Lawyers http://boormanlawyers.com.au/contact/
Welcome to Boorman Lawyers.  In this video and blog post we are going to look at the QLD Traffic Offender Program.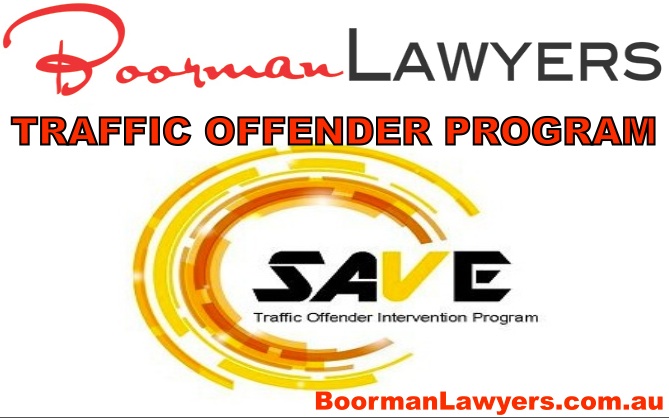 Speaker at the S.A.V.E. Traffic Offender Program
I was invited along to speak and give the presentation on the legal component at the SAVE Qld Traffic Offenders Program, which is a traffic education and rehabilitation course that a lot of traffic offenders go and participate in. This new program, it's new to Queensland.  It's been well-established in New South Wales for quite some time.
Full 1 Day Traffic Offender Program QLD
It's a full one-day course which covers a number of different traffic education components.  Obviously, I'll be giving the presentation on that legal component today.
Program suitable all types of traffic offenders
If you have been charged with any sort of quite serious traffic offence or even maybe less serious offence, I mean if you've lost all your points and you're going to plead some leniency before the Court, if you've been not charged with a more serious offence such as drink driving or dangerous driving, disqualified driving and you've got to go to Court on these offences, then it's very much worthwhile to look into doing a traffic education or a traffic offender program such as the SAVE QLD Traffic Offenders Program.
It usually costs about $160 to do the course.
Participants issued with a Completion Certificate
This particular course is a full one-day course.  As I've mentioned, a number of different components are presented in the course.  Participants are obliged to participate and become quite engaged in the course throughout the day.
Then there's a workbook that they fill out and space for notes to be taken, and then at the end of the course, if they participated properly and filled out the workbook, then they'll be provided with a completion certificate.
Traffic Offender Program are highly regarded by the Courts
When the matter actually comes before the Court, they can actually show the Magistrate that they have completed this course, show them their workbook, their completion certificate.  It really just does show a willingness on the part of the offender to re-educate themselves rehabilitate themselves in relation to their offending behaviour and general driver safety on the roads.
These courses do going to a lot of detail.  They do present quite some confrontational and graphical content.  It is there to really teach people the pitfalls of dangerous driving and offending on our roads.
The Courts are aware how well run these courses are.  They are also aware that people who gone participate in these courses have a far less chance of becoming a repeat offender.
So if you have found yourself on the wrong side of the law, you've been caught for something and you do have to go to court, I would strongly recommend looking into completing or participating in one of these courses.  Then obviously, when your matter goes to court, you can then say to the Magistrate or get through either yourself if you self-represented, or through your solicitor that you've actually gone ahead and you've taken some pro-active steps to ensure that this sort of offending will not occur again in the future.
So look into it, guys, if you want to go along to the website for these SAVE Traffic Offenders Program, it's simply www.SaveTrafficOffenderProgram.com.
If you want to find out a bit more information on potential offences or issues that you may be facing, please feel free to go along our website, which is BoormanLawyers.com.au.
Alternatively, feel free to give me a call on 1300 941 900.  If you would like to have a bit more of a chat about your situation and if you're looking for legal representation when your matter comes to court, certainly I can discuss the options there available.
***
Speak to our DUI Lawyers Ph: 1300 941 900
Our DUI Lawyers can be contacted at:
Boorman Lawyers NSW & QLD Solicitors
Sydney NSW 2000
Bundall QLD 4217
1300 941 900