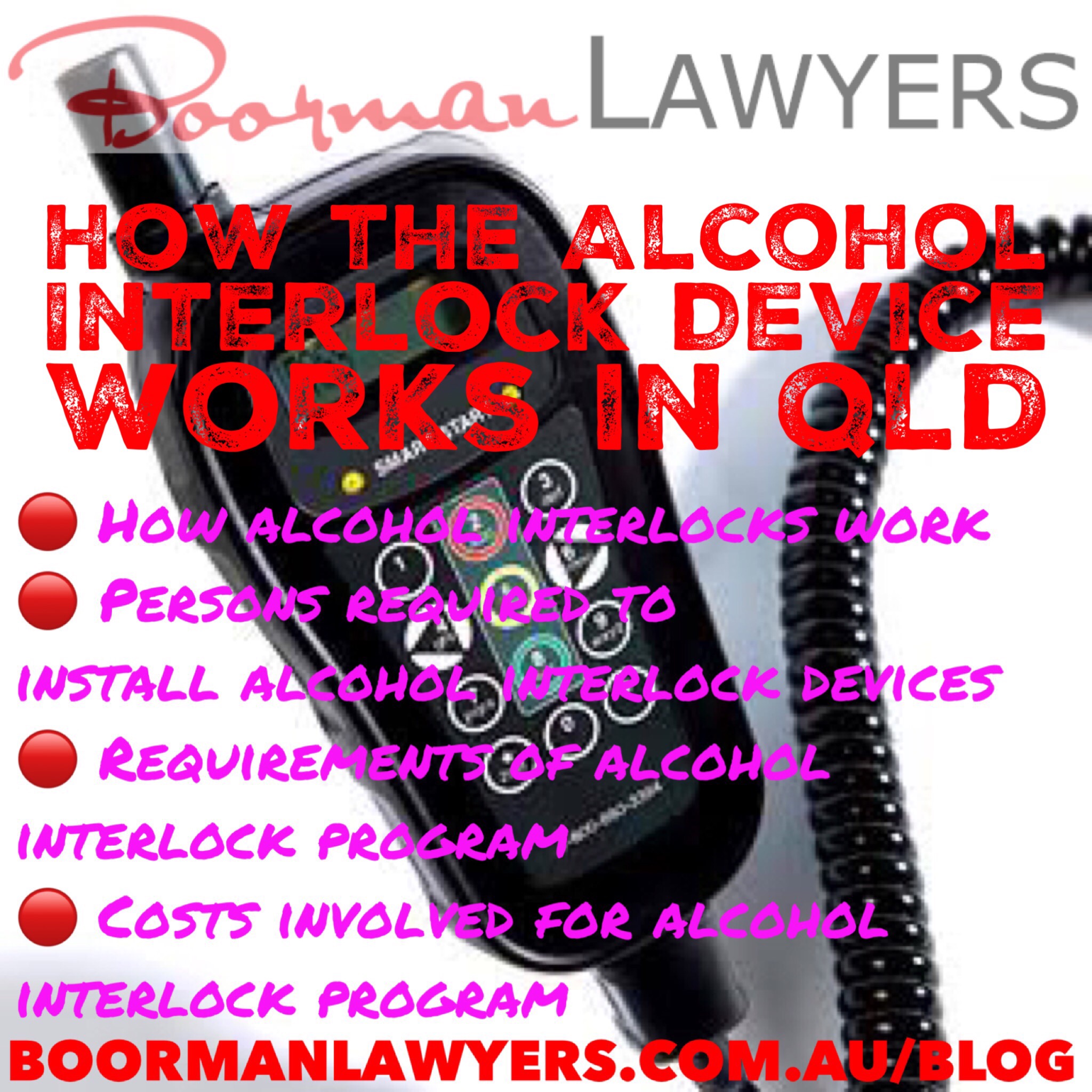 Drink driving is a serious cause for concern in Queensland, contributing to many car crashes every year. This is why drink driving laws are strictly enforced and convicted drink drivers are subjected to stiff penalties including licence disqualification and installation of alcohol ignition interlocks.
How alcohol ignition interlocks work
The logic behind ignition locks is that drivers should not take the wheel when they have been drinking alcohol. Thus, the interlock device is installed to a vehicle's ignition system and is equipped with a breathalyzer that collects breath samples of the vehicle's driver. The sample is instantly analysed and measured for blood alcohol content (BAC). If alcohol is detected, the interlock device prevents the vehicle from starting. This type of device has been around for decades and is proven to be effective in preventing further drink driving offences and reducing alcohol-related mishaps.
The interlock device will also require the driver to provide periodic breath samples at random times during the vehicle's journey to ensure the accuracy of the pre-ignition breath analysis.
Persons required to install alcohol interlock devices
In Queensland, persons who have been convicted of the following offences must undergo the Alcohol Ignition Interlock program:
Driving with a blood or breath alcohol concentration of at least 0.15;
Driving under the influence of alcohol;
Dangerous driving while affected by alcohol;
Failing to provide a specimen for blood alcohol analysis;
Conviction of two or more drink driving offences within five years.
Requirements of alcohol ignition interlock program
Anyone who is required to undergo the interlock program must fill out appropriate forms for:
Application of a valid driver licence with an "I" condition;
Nomination of a vehicle for fitting the interlock device.
Costs involved for alcohol ignition interlock program
The ignition interlock program entails some costs amounting to $2,000 for the licence with "I" condition and the service agreement for the installation, rental, servicing, and removal of the interlock device.
You may refuse to install the interlock device but you won't be able to drive a vehicle for two years after the end of your licence disqualification. If you undergo the interlock device program, you may be able to have the device removed after 12 months and restore your usual driving privileges.
The alcohol ignition interlock device can be burdensome for anyone required to install it. In addition to the driving restrictions, and the costs involved, installing the device on a particular vehicle will also subject other drivers, regardless of their driving licence status, to provide a breath sample in order to operate the nominated vehicle. If you are operating a company vehicle, you are also required to obtain your employer's approval for the installation of the device.
The alcohol ignition device program also provides for exemptions which are limited to drinking drivers located in specified remote areas.
If you are facing a drink-driving charge, it's important to engage the services of an experienced criminal defence attorney who can raise an effective defence strategy in your case. In Queensland and New South Wales, Boorman Lawyers have vast experience in traffic and criminal laws, helping clients obtain the best possible outcome in their situation. Call us today at 1300 941 900 to schedule a free first case consultation with one of our solicitors.
References:
http://www.smartstartinterlocks.com.au/faq_QLD.html
https://www.qld.gov.au/transport/safety/road-safety/drink-driving/penalties/interlocks
Speak to our DUI Lawyers Ph: 1300 941 900
Our DUI Lawyers can be contacted at:
Boorman Lawyers NSW & QLD Solicitors
Sydney NSW 2000
Bundall QLD 4217
1300 941 900
Next Morning or Day Drink Driving Offences was written by Josh Boorman a Drink Driving Lawyer.