In this episode of the Boorman Lawyers Court reports, we take a look at an Unlicensed Driving Offence at Southport Magistrates Court on the Gold Coast in Queensland that our Gold Coast Traffic Lawyers appeared on.
Click Here to See more Court Report Video's like this.
00:14 – Welcome to #BoormanLawyers Southport Court Update
00:50 – Boorman Lawyers obtained last minute instructions
01:00 – We obtained a 3 week adjournment to get better instructions & more time to prepare the case
01:25 – Unpaid fines led to notice to suspend licence by SPERS
02:15 – Husband usually takes care of the mail & he failed to act on the mail to our client
02:50 – Penalties for Unlicensed Driving Offence In Queensland
03:20 – Personal circumstances & need for a drivers licence
04:30 – Result: 1 month minimum Licence Disqualification & $250 fine
05:30 – Contact our Southport Unlicensed Driving Lawyers on 1300 941 900
04:45 – Also visit our website for more information BoormanLawyers.com.au/traffic-law/
Boorman Lawyers appeared for a client who had an Unlicensed Driving Offence at Southport Magistrates Court on the Gold Coast. There was an additional less serious offence of operating a "safe but defective vehicle". In layman's term it's basically when one or two vehicle tyres are bald and as a result our client was issued with the safe but defective notice.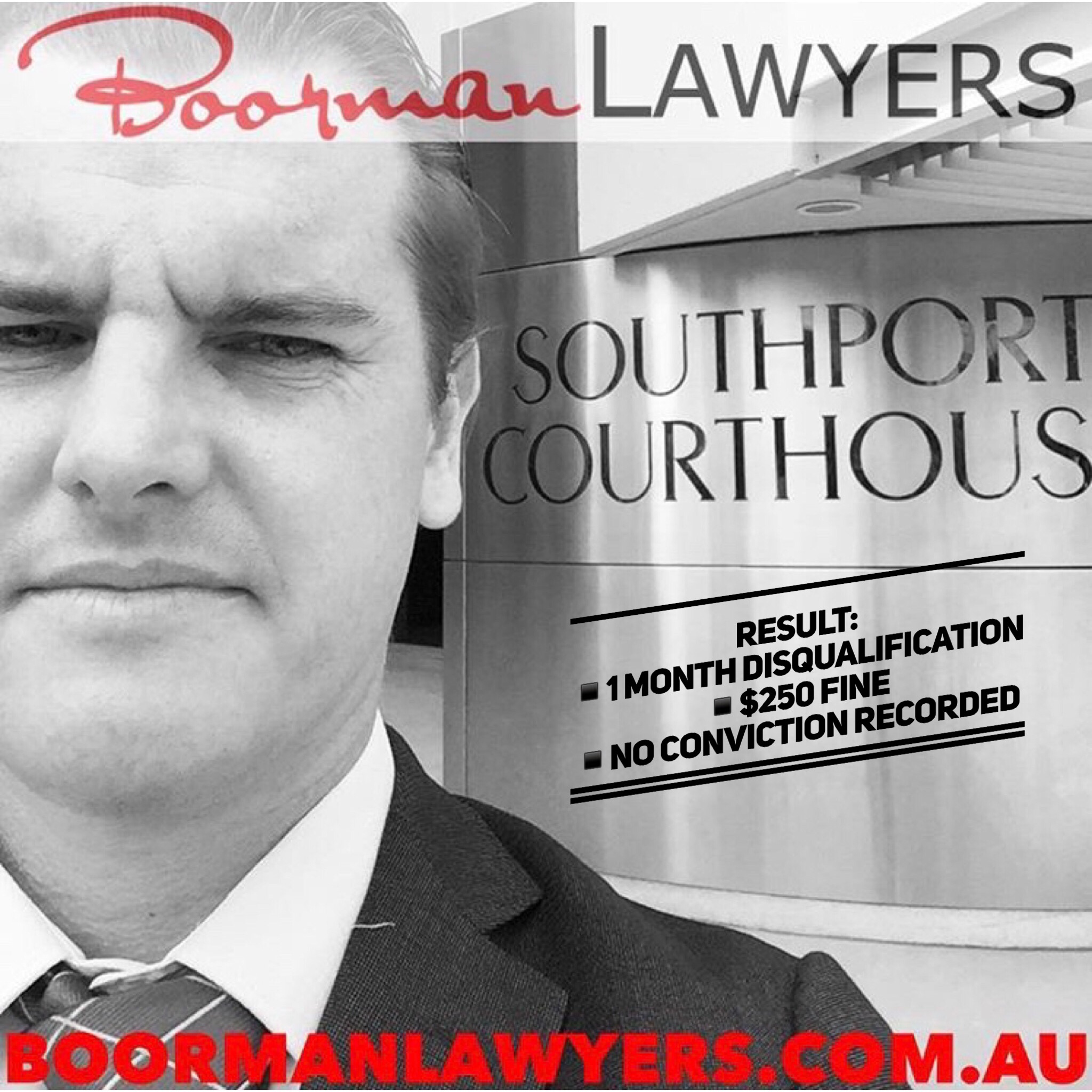 In relation to this matter we got a call from the client and received instructions at the last minute to appear on this matter.  We went to Court where we obtained a short 3 week adjournment so we could probably prepare the case.  During the adjournment period we were able to get further and more detailed instructions from our client. This allowed us to put together some fairly strong evidence to mitigate my client's position and to support her case.
Unlicensed Driving Offences in Qld by SPERS
So, just to explain, the Unlicensed Drive Offence was obviously the more serious offence.  It came about due to the fact that our client had previously been fined for a minor traffic infringement which had been unpaid.  Now, if a fine goes unpaid, it will usually be referred to the SPERS which is the government collection department in Queensland.  If it goes further unpaid following several notices, SPERS has the power to suspend people's driver's licence in Queensland for non-payment of fines.
In relation to my client, she's obviously had an unpaid fine that had gone through to the SPERS department.  A notice had been issued for non-payment and then subsequent suspension of her drivers licence.  However, these notices went undetected and flew under the radar which was why my client failed to act in them. Thorough explanation needed to be given to the Court to explain why she was driving on a suspended license.
Court Submissions for Unlicensed Driving in Qld
So, as we explained to the Court, her husband, who is a businessman.  He has a home office but he does a lot of traveling overseas.  I explained to the Court that he is the one who usually takes care of all the mail and the sorting that comes through to the household. Unfortunately, when these notices came through, he was away at the time.  When he got back, he failed to act on this particular mail and notices that were issued to his wife. Because he has failed to open the notices he subsequently failed to bring the notice of driver licence suspension to his wife attention.
It really was an unintended oversight by my client.  We had my client's husband write a letter to the Court supporting her case and actually putting his hand up and saying he was partly responsible for the oversight.  Nevertheless, my client does realize that it is her responsibility to handle her own mail and her own offence and this has been a massive wakeup call and lesson for her.
As soon as my client was pulled over by police and charged with the Unlicensed Driving Offence she took immediate action to pay the entire amount owing to SPERS for a previous unpaid fine.
Unlicensed Driving Penalties in Qld
Now, in relation to the penalties of an unlicensed drive offence where it's been SPERS suspended, there is a mandatory disqualification that must be hand down by the Courts in Queensland.  That period of disqualification could be anywhere between 1 month as the minimum all the way up to 6 months as the maximum period of disqualification.  So we were certainly pushing for the complete reduction of a disqualification period and leniency for this particular case.
Clients personal circumstances & need for a Licence
Some subjective issues needed to be explained to the Court surrounding my client and her personal situation in relation to her family.  We were able to explain to the Court through our oral submissions and also, through my client's husband statement that he is a businessman who spends up to 25% – 30% of his time overseas in New Zealand and Asia and other countries for work.  We explained to the Court that my client has two boys who were twins. Sadly, one of their children has had on-going health problems for many years now.  Certainly, when her husband is away overseas, she needs to provide a high level of care for her young boy who suffers from a number of medical issues and learning difficulties.
So being without a license would certainly put her at a greater disadvantage to the average person on the road.  She had a relatively unremarkable traffic record and this was looked at in her favour.  She had no prior major traffic offences.  She had some minor infringements there but nothing too serious and nothing that would really work against her.
We explained all of these issues and the unfortunate and unintended oversight that had occurred which brought this offence about and the Magistrate agreed it was very unfortunate and she had a strong need for her license.
But unfortunately, she still did have to by law disqualify my client for a period of time.  The Magistrate agreed with our submissions that the mandatory period of Disqualification should be reduced down to the absolute minimum period of 1 month.  She issued a very low fine for both offences of $250.
Ultimately, it was one of the best outcomes we could have got for a plea of guilty of unlicensed driving and a defective vehicle notice.  My client was very happy.  Luckily for her, it's the Christmas period, her husband will be around and she won't be all alone.  She should be able to get through the next four weeks without a license without too many hiccups.
Southport Magistrates Court on the Gold Coast, Qld
So this was just another case we appeared on Southport Magistrates Court.  At the Southport Courthouse there's a large number of Magistrates that appear at the Southport Magistrates Court and sit on the bench.  So you just don't know which Magistrate you're going to get until the day of the hearing.  But fortunately, for us, we regularly appear at Southport Magistrates Court.  We have a good report with the Magistrates and the Prosecutors there.  So, it does make the process a lot smoother.
Contact our Gold Coast Traffic Lawyers
So, if you've been charged with any traffic or criminal offence such as unlicensed driving, drink driving, drug driving, disqualified driving, or any other sort of criminal offence, please feel free to give us a call on 1300 941 900, or alternatively, go along to our website which is boormanlawyers.com.au.  There's a lot of information there about all sorts of offences, penalties, legal strategies, blog posts, statistics, videos.  We've really tried to create a bit of an information hub on our website for you to go along and to make yourself familiar with the situation you might find yourself in.  But as mentioned you can give us a call 1300 941 900 if you want to have a further chat to me about your case and how we can best represent you.
Speak to our Qld Unlicensed Driving Lawyers Ph: 1300 941 900
Our DUI Lawyers can be contacted at:
Boorman Lawyers NSW & QLD Solicitors
Sydney NSW 2000
Bundall QLD 4217
1300 941 900