Boorman Lawyers Call 1300 941 900 – Drink Driving Lawyer Waverley Court appeared on a High Range DUI offence where we achieved a great outcome for our client.
DUI Video #TimeStamps
00:13 – Welcome to #BoormanLawyers Waverley Court in Sydney
00:26 – High Range PCA (0.178)
00:40 – Offender received distressing new prior to drinking
01:28 – Came to Police attention due to erratic driving
01:55 – Persuaded the Court that this was uncharacteristic behaviour
02:10 – We tendered supporting evidence in our clients case
03:10 – Traffic Offenders Program
03:40 – Minimum period of disqualification of 6 months
04:10 – Mandatory Alcohol Interlock Device
04:25 – We persuaded the Court not to fine our client
04:55 – Client Happy with the Outcome & Results
05:25 – We have good insight to the Magistrates & Prosecutors at Waverley Court
05:45 – Contact Boorman Lawyers 1300 941 900
06:05 – Visit our website http://BoormanLawyers.com.au
Waverley Local Court Sydney NSW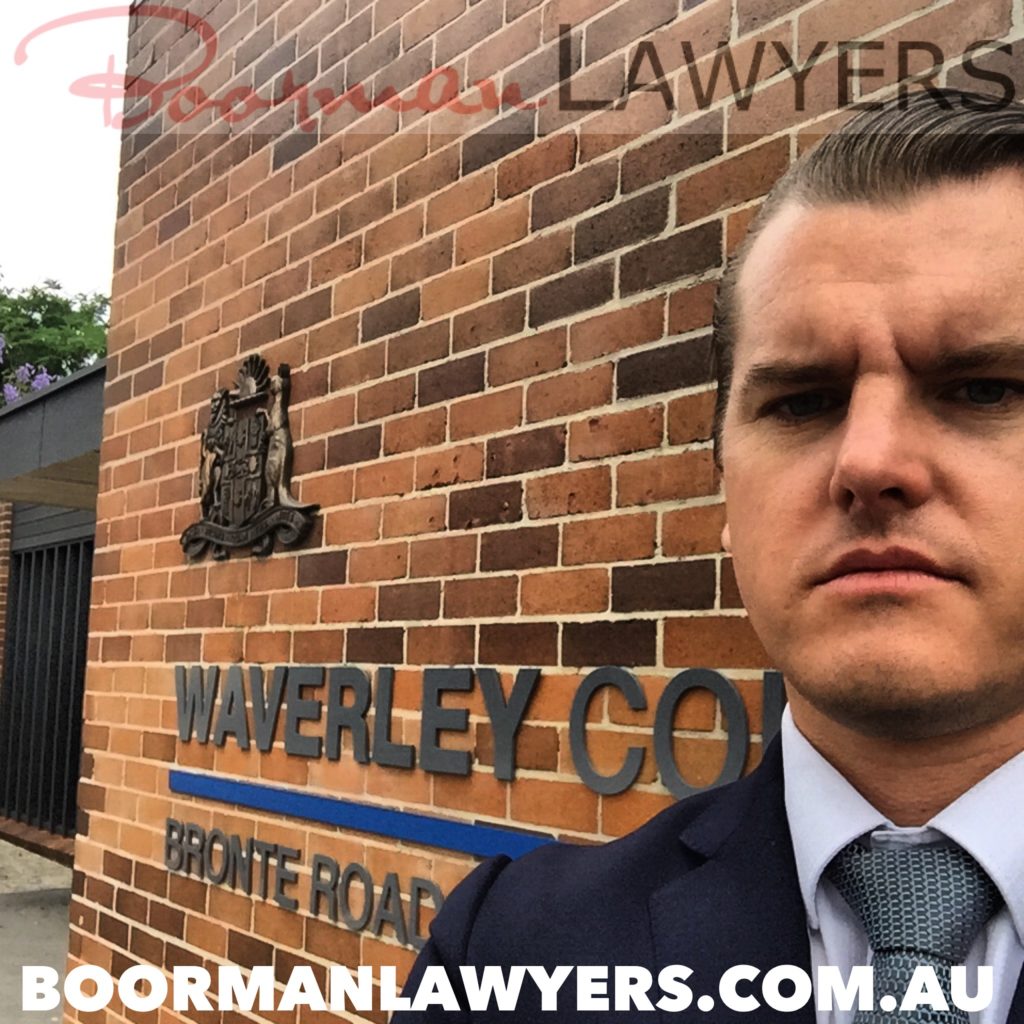 Recently we appeared at Waverley Local Court on a high range PCA or a high range drink driving offence. It was quite a serious offence because the blood alcohol rating was obviously above the 0.150 limit in the high range, it was quite well above that at 0.178.
Extenuating Circumstances which led to the DUI Offence
In relation to the circumstances surrounding the offence, our client had been working in the rural town of Tamworth.  He'd received some pretty unfortunate and distressing news from back home where he lives or used to live in Ireland, that a friend had just been diagnosed with cancer and he didn't have anyone around to have any emotional support or anyone to speak to about this.  So he ended up making the poor decision of driving straight to the pub and drowning his emotions by drinking alcohol in excess, something that he would usually not do.
But whilst that's all within the law until he got to the point of such high level of intoxication that he made an absolute reckless and poor decision to get into his car and drive a short distance down the road to where he was staying at a local motel.  So it was at that point that he actually broke the law.  He unfortunately came to the attention of the police due to the fact that he was swerving and he wasn't driving in a normal or prudent manner.  So they pulled him over and he recorded the high range rating of 0.178 which was as the Magistrate said he wouldn't have been in a position to make a normal or sound judgment or decision in a state that he was in.
What we did do is we explained those circumstances to the Magistrate and indicated that this is very uncharacteristic type of behaviour for our client.  It was due to this very unfortunate emotional event that triggered him to act in a way that he usually wouldn't by drinking alcohol in excess.
Supporting documents we tendered to the Court
We were also able to tender a number of documents in support of our client.  We got him to put together a letter of apology which we help beef up and clean up and put before the Court.
We got his girlfriend to do a letter in support of him to show what a responsible partner that he usually is and how he is their main income and provider in their household.
We were also able to get a letter from his employer explaining, confirming his employment with them and that due the fact that his driver's license is a significant requirement as a part of his employment, without his license, he will struggle to be a part of their team at work.
We got all those documents together.  We also got another document, a character reference for our client to show that he does take part and support his local support by then helps out and volunteers from time to time.
NSW Traffic Offenders Program
We also were able to tender a completion certificate from his completion to the Traffic Offenders Program and this went a long way, given that it was his first drink driving offence, to show that he has taken some proactive steps to re-educate himself on driver safety and learn more about his responsibility as a driver on our roads.
High Range Drink Driving Court Results
So this was all well received by the Magistrate and we were able to reduce his period of disqualification down to the minimum period of 6 months and that was backdated to the date that he lost his license on the day of the offence.
In New South Wales, all high range drink driving offenders must commit to the mandatory interlock provisions, which means that they must have a interlock device put into their vehicle from minimum of 2 years after they receive their license back from being disqualified.  So there was no escaping this and we prepared our client that he would have to commit to the interlock provisions and device to be put into his car.
No Fine was ordered
 But the other really good result that we got was the fact that we persuaded the Magistrate not to issue any financial penalty or fine for our client in relation to this offence.  Our basis for receiving a No Fine order was that our client, having to do the Alcohol Interlock Program, would still have to spend some money on having the device put into his car, having it calibrated and assessed once a month so this would come at a significant expense to him in any event. For that reason, the Magistrate agreed and did not issue any financial penalty.
Client Satisfaction
Our client was really happy.  He is happy that he didn't get any further financial penalties and he was able to receive the minimum disqualification period for that type of offence which would mean that he would be able to get back on the road sooner and focus on earning an income and working hard in his chosen profession.
Benefits of choosing Boorman Lawyers
So, guys, it was a serious drink driving offence but we put together a well-forte and well-prepared case.  We know the Magistrates at Waverley.  We know how they think.  We know what their attitudes are towards these types of offences and we know how to approach them.  We also know have good working relationships with the prosecutors and there was no problem or objection coming from the prosecution side.
Contact Boorman Lawyers to discuss your matter
So if you found yourself in the unfortunate situation where you've been charged with a drink driving or drug driving or a serious traffic offence, rest assure, we specialise in this area in New South Wales Law.  If you want to give me a call on 1300 941 900 I'm happy to have a chat to you about your particular situation, the charges you may have or alternatively go along to our website BoormanLawyers.com.au and check out our pages there.
We've got a whole heap of information surrounding laws, penalties, blog posts, videos to make you aware of the situation you may be in.  By all means, feel free to give me a call to have a chat about your matter and how we can possibly best represent you when your matter comes before court.
Thanks for tuning in today, guys.
***
Waverley DUI Lawyers – Josh Boorman Ph: 1300 941 900
Our Drink Driving Lawyer Waverley Court can be contacted at:
Boorman Lawyers NSW & QLD Solicitors
Bundall QLD 4217
Sydney NSW 2000
1300 941 900