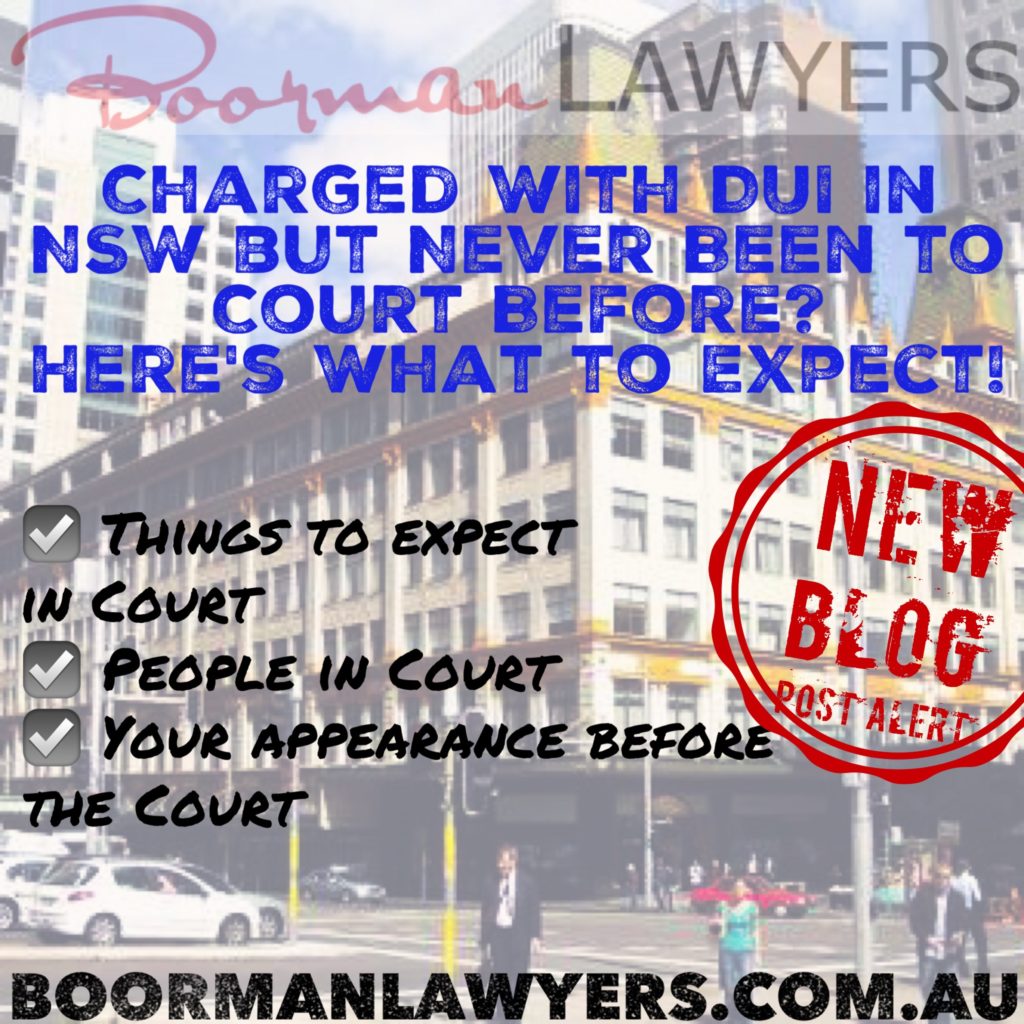 DUI cases are serious charges in NSW, and even low range drink driving penalties such as driving licence suspension and a steep fine can have a significant impact on your life. If you are charged with DUI, you will have to face a magistrate to answer the allegations against you in court.
Things to expect in court
Many people who are facing a DUI charge are doing so for the first time, and it can also be their first time facing any charge in court. For those people new to the system, here's what to expect on your first day at court.
Safety search before entering. Security officers at the courthouse may conduct security searches to ensure public safety in the courtroom. Prohibited items include knives, scissors, tools, studded belts, motorcycle helmets, spray cans, and syringes.
Court list near the court entrance. Cases to be heard on any given day are printed on a court list displayed near the court entrance. The court list will indicate which courtroom you are in and your case number. You can also obtain this type of information online at https://onlineregistry.lawlink.nsw.gov.au/content/court-lists.
Court officers in the courtroom. Court personnel are assigned to specific courtrooms and can be readily identified by their red badges or uniform. Upon entering the courtroom, approach the court officer and let them know that you have arrived. If you are represented by a lawyer, look for your lawyer and follow advice on where to wait until your case is called.
Courtroom appearance. Courtrooms may have traditional (wood panelled) look or a more modern appearance, depending on which court you are attending. Magistrates wear black robes without wigs. Judges can wear red, purple, or black robes and don traditional wigs. Local court hearings are conducted without a jury.
Court formalities. While bowing is not compulsory, many people bow when they enter and leave the courtroom. If you have a lawyer, the magistrate will speak to you through your counsel. Always stand up when addressing the court and call the magistrate "your honour". Switch off your mobile phone.
The following are also strictly prohibited inside the courtroom:
Eating or drinking;
Taking photographs;
Talking on your mobile phone;
Video or audio recording the hearing; and
Talking while the proceedings are ongoing.
People in court
Judicial officer (who may be a magistrate or registrar)
2. Court officer who assists the magistrate
3. Witness (any person asked to provide oral evidence under oath)
4. A prosecutor who handles the charge against you
5. Your lawyer
Your appearance before the court
How you appear before a magistrate can leave a lasting impression. While you are not required to wear a suit or tie, you are expected to dress appropriately. Wear clothes that are neat and tidy as well as comfortable enough to last you for several hours in a courtroom.
Facing a charge in court can be stressful. Knowing what to expect on your first court appearance can put you at ease during your DUI hearing. It also helps if you are represented by a skilled Sydney DUI defence lawyer such as Joshua Boorman. Boorman Lawyers provide quality legal representation and will be with you throughout all the stages of your case. We invite you to contact Boorman Lawyers today on 1300 941 900 to make an appointment to discuss your charges.
References:
http://www.localcourt.justice.nsw.gov.au/Pages/what_to_expect/first_day.aspx
https://onlineregistry.lawlink.nsw.gov.au/content/court-lists
Speak to our DUI Lawyers Ph: 1300 941 900
Our DUI Lawyers can be contacted at:
Boorman Lawyers NSW & QLD Solicitors
Sydney NSW 2000
Bundall QLD 4217
1300 941 900
Charged With DUI in NSW but Never Been to Court Before? Here's What to Expect was written by Josh Boorman a Drink Driving Lawyer.